NEW RELEASE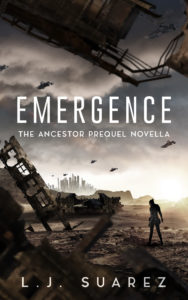 What killed the human race?
Dr. Ionne is an ambitious paleontologist with a promising career ahead of her within the Monad scientific community, but the young scientist is stricken by grief and guilt when an incident during an archaeological dig claims a loved one. Ionne is then given the opportunity of a lifetime to lead a team to an unexplored region that once belonged to a long lost civilization – the Homo sapiens. It is there that she will make the greatest discovery in her people's history. But can she also discover how to forgive herself?
Set prior to the novel The Ancestor, Emergence chronicles humanity's downfall and the eventual rise of its descendants, the Monads, on this rip-roaring journey of discovery and redemption. 
Hello, I'm L.J. Suarez and I'd like to thank you for visiting my website. Be sure to sign up to my newsletter at the top of the page to receive official updates on future book releases, giveaways and other awesome stuff. I'm excited to share with you the worlds that I have created.
If you sign up NOW, you'll get my novella EMERGENCE plus my short story REDEMPTION ALLEY, for free. If you'd like to learn more about yours truly, just click here.
Happy reading!
L.J.